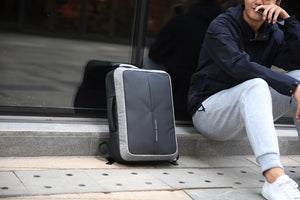 About Mark Ryden Canada
Mark Ryden Canada is proud to be a member of the Mark Ryden Brand, and we are dedicated to hand picking the very best section of the collection for our customers.
Our approach is to bring you the most stylish tech savvy backpacks and accessories period. We understand the landscape, our cities and schools and our only goal is to kit you out with the very best gear for your lifestyle.
Our dedication doesn't end there either. Here's more good stuff.
When we became an official authorized Mark Ryden representative, we took on a huge responsibility of being a part of an amazing team. With that in mind, we also wanted to shake things up a bit and really reach out to you, the people that buy our product and earn your trust.
Moving forward, we want you to know that when you purchase any
Mark Ryden products, we will always have your "BACK" (no pun intended) and offer you complete customer support and return guarantees, along with super fast shipping from our Canadian warehouse. We will always get you your products as quickly as possible and if there are ever any problems with your order, we will work with you directly to immediately create a solution.
We love what we do and we are grateful that you chose our products. In return, we hold ourselves to a higher level and are dedicated to always offering you the very best in tech savvy wearables, and customer experience.
Nick Zampino 
Chief Executive Officer
Mark Ryden Canada
ABOUT MARK RYDEN
For over a decade Mark Ryden has been creating the very best stylish and functional backpacks, bags, wallets and accessories on the market.
The modern work and scholastic landscape require that we have all of our electronics with us at all times when we go to work, school, commute and travel. We have to be fully wired and in communication at all times, which means we also have to secure our gear.
Recognizing that safety and style don't have to be separate entities, Mark Ryden has spent years creating stylish and comfortable backpacks and bags that are durable, theft proof and fully usb wired so you will never be without a charge.
To date, Mark Ryden has sold over 250,000 bags worldwide since our first product launch, and we are growing every day.
The demand for high quality backpacks and bags that keep us connected is growing every day, and so do our ideas.
We are more than a company that makes bags. We are innovating the industry with our focus on technology, style and comfort, at a price point almost anyone can afford.